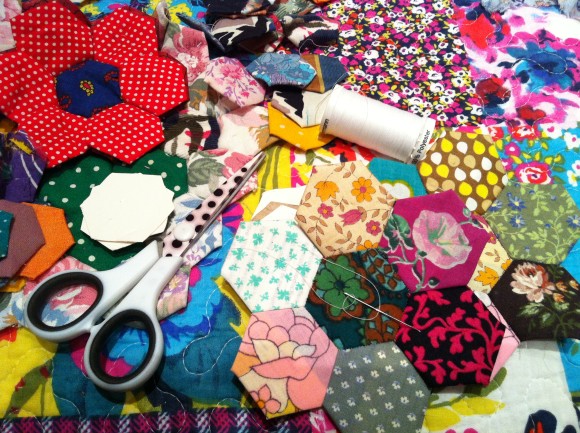 I'VE mentioned before that the reason I enjoy stitching and other crafts today, is because I was encouraged to try them a lot as a child. It was a great way to keep me occupied; offer me a crochet hook and a ball of yarn, or some off-cuts from fabric and I would be distracted for an afternoon.
And so this week I uncovered a little freezer bag of fabric scraps and it took me back to when I was ten years old. My mother taught me how to sew patchwork by hand and I still remember her warning not to lose these fairly old templates which had been cut out from tins a few generations before me, and had been used by my great grandmother.
In the bag, I found one of them, a diamond shape. I still maintain it's not lost – just borrowed (sorry mum). But along with it were about 40 tiny fabric hexagons, all hand-stitched by my ten-year old self. A lot of the fabric I can remember had been scavenged from jars of mustard, jam and pate when jars used to come with fabric covers in polka-dot and paisley patterns. There were also hexagonal cardboard templates cut from old birthday cards, all carefully bundled in. A small number of fabric hexagons had even been stitched together – I'd obviously grown impatient with the repetitiveness of having to make so many little shapes.
So it was I got my inspiration from my childhood this week. Using the same little cardboard hexagons I used as a kid, I have started work on a pin cushion (pictured in the foreground of this photo). The fabric is all vintage as well – it seemed apt. Maybe this time I will finish it. I'll keep you posted.